Yes, still in 19th century England ...
"Andy, stop munging about through that box of silk knickers and get out here. I sort of need your help."
"Wassup, Teen? Gimme a moment, will you, these lemon coloured kecks are the business, I tell you!"
"Andy! Whilst you're trying to sort yourself out a pair of drawers, I'm in imminent danger of losing mine. The, er, gentleman seems to be a mite persistant."
"Just tell him to leave, Teen. Politely, like."
"I tried that already Andy."
"Politely?"
"Well, you know me ..."
"Okay, Teen, so which part of the expression "fuck off" is he having trouble understanding?"
"Come another step nearer, Sir Hawksley ...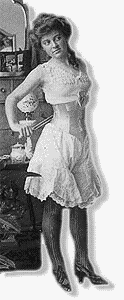 ... and I swear I'll shove this curling iron somewhere where the sun will never shine on it!"